The Course
---
The course : Mostly flat, on hard surface. Run on the left throughout. There will be distance-markers at 1 / 5 / 10 / 15 / 19 miles.
The Route : Generally straight / eastbound / obvious,,, apart from 3 points where you need to hang a left (but they will all be signed)... into New Street, Musselburgh (2.2 miles); at Levenhall roundabout (4 miles); and up into Dirleton village (17.2 miles). At a few points on the course you will see orange arrows on the ground showing the correct way.
Water-stations : There are three, with plastic cups: water on first table, orange juice on second. And first aid kits.
WS1 : 4.9 miles, Morrison's Haven carpark (Prestongrange)
WS2 : 9.8 miles, Longniddry Bents carpark no.2
WS3 : 15.1 miles, start of Gullane
Paths / Roads : For the great majority of the route you will be running on promenades, paths, pavements, or shared cycle-paths. But you will have to run on the road for the following two sections: (A) from the east end of Seton Sands (at 9.2M, for about 3 miles, until the entrance to Aberlady); and (B) on the approach into Gullane (at 14.1M, for about 1 mile,,, although there is a cycle-lane marked on this bit). On these sections 'Runners on Road' signs will be positioned at regular intervals to alert drivers.
N.Berwick / Finish : The final mile in North Berwick is almost straight, on pavements. The finish is on the grassed area just beyond the putting green.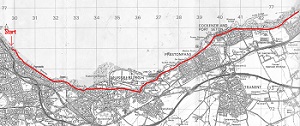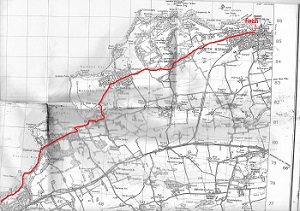 west half of course / east half of course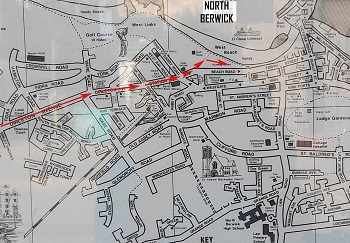 finishing section, North Berwick